Secure Socket Layer (SSL)
Secure your site with our SSL certificates
For personal projects
Free
No credit card required
Full access to all features
For personal projects
Free
No credit card required
Full access to all features
For personal projects
Free
No credit card required
Full access to all features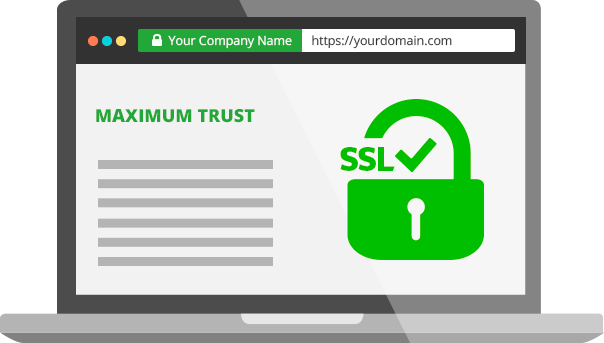 What is an SSL certificate?
An SSL certificate acts as third-party verification for a website's security. It verifies the strength of the Secure Socket Layer encryption used when a user connects to the site and connects that encryption to the organization or individual that owns and maintains the website. SSL certification and validation are a necessary piece of web security for any business that collects information from its users.
Different SSL certificates provide different levels of security, depending on the level of protection and security features your website and its users need. You may be familiar with visual elements such as Site Seals, the HTTPS:// protocol appearing in the URL, but there are less-visible functions that help protect your website and visitors.
No matter what level of security you choose, your users will recognize that your site is safe, and that leads to greater trust in your brand online. Visit our SSL Certificates FAQ for more insights.
SSL Certification in Four Easy Steps
We provide high quality services
Buy It
Begin by purchasing the right SSL certificate for your needs. Choose from the three types listed above.
Activate It
You'll be able to activate your SSL certificate from the Account Panel immediately after purchase
Install It
You will receive instructions on how to install your SSL certificate once it has been validated and issued
Manage It
You may manage your SSL certificates (including renewal and reissuance) in your Account Panel.
SSL is short for secure socket layer – a technology that encrypts communication between users and a website. This encryption ensures that important data such as usernames, passwords, and credit card information is sent from the user to the site without the risk of interception.
An SSL certificate is a certified piece of code on a website that binds this encryption to the organization responsible for the website.
Simply put, SSL is a way to encrypt data that is sent from a web browser (like Internet Explorer, Firefox, or Chrome) to the web server. While it was primarily used in the past to protect sensitive information like credit card numbers and other data, these days it's being adopted on a wider basis. In recent years, it's become the norm for secure browsing of all sites, particularly social media.
Without SSL encryption, the traffic exchanged during any browsing session is vulnerable.
Each valid SSL certificate must be issued for every server and domain (website address). When you use your browser to open a website holding an SSL certificate, the SSL handshake occurs between your browser and the website server. The information request during this 'greeting' is then made visible to you in your browser window. You will find some changes that indicate a secure session has been initiated. A padlock, a trust mark, or the website name highlighted in green are all indicators that a secure link is established and secure communications can begin.
You can easily recognize a secure connection. You can identify whether a website is protected with SSL certificate just by looking at the URL. If the URL begins with 'https://', it's to be understood that the website is secured with an SSL certificate. Standard web addresses begin with HTTP. In an SSL protected website, HTTP is replaced with HTTPs. The extra 's' indicates that it's a secure page.
There is an SSL available to cover a whole host of different requirements, there are some which offer higher levels of security to build consumer trust and others which cover more than one domain. The requirements for each type of SSL certificate vary, and they can range from free to cheap (DV SSL) to more expensive strictly business validation such as EV SSL Certificates.
SSL Certificates
Choose your level of validation and protect your users from identity theft today.