Best Domain Name Registrar in Nigeria
Do you want to know the best domain name registrar in Nigeria if so get right into my top pick for the past two years?
The best domain registrar for most people is Broaddrive (get a free domain with hosting).
I've used lots of different domain registrars in Nigeria over the years. With some of them, I've had a really great experience, why some very bad customer service. It's nothing flashy. I was able to find and snag a domain I loved at a good price. Everything got pushed through pretty quickly with very little work on my end.
There are also some domain registrars in Nigeria that I will never use again. I try to shine a light on the facts and why Broaddrive is the best domain name registrar in Nigeria.
So while it might seem like all domain registrars offer the same thing, there are important differences. Trust me. Why I pick Broaddrive over all of them is because of all order offers it gives.
To help you find a solution that works for you and the best domain name registrar in the Country, Keep reading to find in-depth reviews of broaddrive and a short buyer's guide to help you make sense of your choices.
Let's get started so you can lock in a great deal on your domain as soon as possible. after all this you all see the importance of using Broaddrive
#1 – Broaddrive Review— The Best for Getting a Free Domain for Your New Website.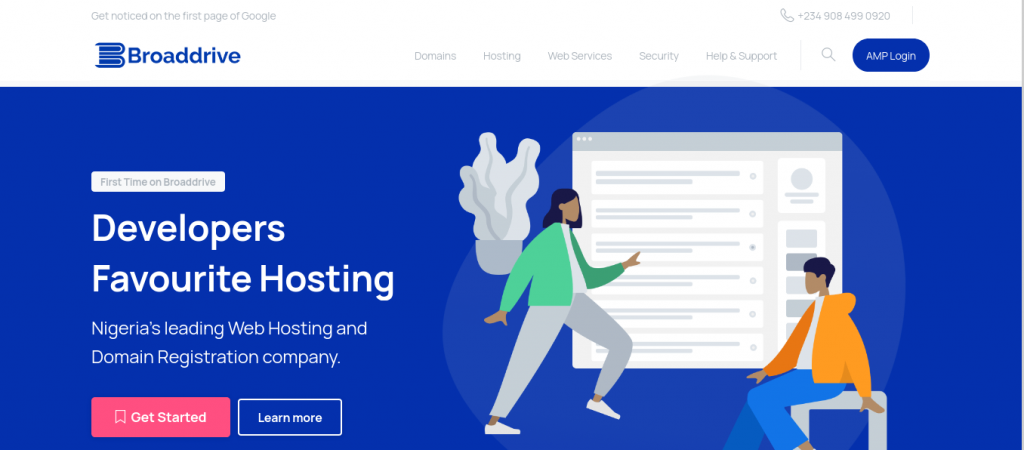 Good Customer Support, and Affordable Services.
If your search for a domain name registrar is part of a larger mission to launch a new website, go with Broaddrive.
Broaddrive is primarily a hosting company, but they also provide domain registrar services.
However, the real bonus of going with Broaddrive is the free domain for one year that you get on their small solution and WordPress hosting plans.
In order to get a new website online, you need hosting and a domain name. With Broaddrive, you can get both with a single purchase.
Not only is this convenient—you don't have to get hosting from one provider and a domain name from another—it's also a really great deal.
With Broaddrive, you can get everything you need for as low as N5000 per year.  you'll get an amazing deal with Broaddrive :
Normally hosting isn't that cheap. And, since Broaddrive is throwing in a free domain N1500- N6000 bucks in the first year, at least.
It's also super simple to set up and get oriented, even if you have never done anything like this before. Just select your preferred hosting plan and the next screen gives you the option to create a new domain. they did not become the best domain name registrar in Nigeria overnight. they gave it their best.
Do not forget the cool fact that Broaddrive will then search to see if your preferred home on the web is available. If it is, the next step is just entering payment and contact information and you're all set.
Plus, if you need to quickly build your site, Broaddrive can help immensely there, too. They offer a wide array of site templates, their proprietary website builder, and one-click installation of WordPress.
The whole process as easy as it gets. Go from nothing to a fully-hosted, ready-to-go website on your dream domain in minutes.
On top of all this, Broaddrive gives you free tools to drive traffic to your site, improve performance, and strengthen security:
Intuitive domain management dashboard
Automatic WordPress updates
Free SSL certificate
Free content delivery network (CDN)
Auto renewals
24/7 expert support
Self-service knowledge base
I really like Broaddrive for new sites because it takes care of so much. Enable the free SSL certificate and CDN with one click each. You don't have to configure any of it in order to benefit from the increased site speed and security.
With other options, you might have to set these features up on your own, which can be complicated. And they might cost extra, whereas both are baked into Bluehost free of charge.
Broaddrive.net: A Leading Domain Registrar & Web Hosting Company in Nigeria
Broaddrive is Nigeria's Best Domain Name Registrar & Web Hosting Company with operations in over 4 countries including Nigeria. We are accredited with over 16 Asian, African & Global Domain Registries including NiRA (.NG Domain Registry), ZACR (.ZA), DotPH (.PH), NIXI(.IN),.PW & CentralNic to bring the best services to our clients at the lowest prices.
Our primary services are Domain Name Registration, Web Hosting, WordPress Hosting & Website Design to our customers. You can securely buy any of our services with local payment options in Nigeria like Interswitch/Verve Cards, Visa/Mastercard, GT Bank Transfer, GT Bank Cash Deposit,  Nigerian & International clients can also pay us with global payment methods.
Broaddrive Advantage
Helping you find the perfect domain and hosting is just the beginning. With Broaddrive, you'll have access to a whole lot more.
Domain Privacy:Keep your personal info concealed from possible spammers and identity thieves.
Huge Selection: we make it easy to find a unique, creative domain name that helps your site stand out.
Lightning-fast search: quickly find that perfect domain among the multitude of options available
Peace of mind: have confidence in knowing you're working with a trusted global domain provider.
Domain Name Registration
At Broaddrive we take pride in providing secure, reliable & affordable Domain Registration to all our clients as our main business. That is why we offer the best industry prices not only for new domains registered with us but also for Domain Renewals & hassle-free Domain Transfers to us.
You can easily register any domain name of your choice with us. We offer several global domain extensions including major TLDs like .com, .net, .biz, .org & also popular ccTLDs including .ng (NIRA), .com.ng, .in,  .co, .co.uk, .pw and many other popular domain extensions. Our domain registration prices start from as low as N900.
All the domain names registered with us come with 24×7 Support & many free services worth over N10,000 including Free DNS Service, Free Privacy Protection to hide your whois information from spammers & data miners, Free Domain Forwarding, Unlimited Mail Forwards, Domain Theft Protection & Registrar Lock to prevent Unauthorized domain transfer.